Details

Written by

MB

Category: Uncategorised
Hits: 4026
Inowrocław is considered the capital of Western Kujawy.
The city is located on the mighty rock salt deposits that are mined here since ancient times. In Inowrocławiu are brine graduation towers that give the city character Spa. The country town is considered one of the best resorts treatment of respiratory diseases. The biggest attraction is the spa park called Park Brine or "brines", extending the area of ​​approx. 85 hectares. The Brine Park are numerous health resorts, sanatoriums, graduation towers, band shell, recreational areas, ie .: tennis courts, a ropes course, a gym Field for adults, children's playground, mini-golf, tables for playing chess, horse riding, swimming pools. Solanki is famous for its magnificent floral carpets, rich natural landmarks, as well as the papal gardens, garden scents and colors that are a favorite place for walkers, and after a long journey, visitors can experience a break in the pump room of mineral waters and palm house. The city is surrounded by many bicycle paths.
In Inowrocławiu the main street of the city center is situated. Queen Jadwiga commonly called "Królówka" - at the intersection of the street and the market is Leo Hostel. Street has buildings from the late nineteenth century and early twentieth century. Queen Jadwiga street formerly was the main thoroughfare and commercial cities and so was today. "Królówka" is the center of social and commercial life Inowrocławia.
Surroundings Inowrocławia worth visiting:
• Kruszwica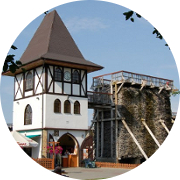 • Torun
• Bydgoszcz
• Gniezno
• Biskupin
• Dinosaur Park in Rogow
Details

Written by

MB

Category: Uncategorised
Hits: 2478
LION HOSTEL is located in a restored nineteenth - century building, which years ago housed the famous Hotel Pod Lion.
Before the summer is a vibrant place, with a good kitchen and great - even in the period after the Second World War - music band. Organized in "lewku" carnival balls, charitable tudzież the usual fun enjoyed great success.
The building was erected in 1906. and immediately became a meeting place for the wealthiest przedstaHistoria-Lion-Hostelwicieli Kujawy area. In the interwar under local wolanty and carriages drove up with Kujawska elite, au of visitors, greeted the beautiful oleanders.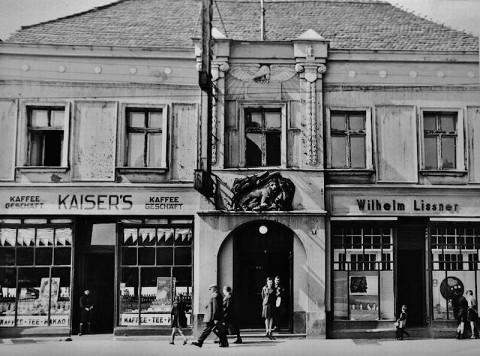 On a small stage, staged vaudeville and other performances. The PRL in the restaurant held Popul
AD dancing, and stopped wealthy hotel guests.
Decorate the front of the facade from the end of the nineteenth century, and similar motives can be seen on the facades of other houses Inowrocław. These stucco done in Inowroclaw plant stucco and plaster casts were applied to the pad of cloth. Products from this factory were of very good quality.
Once the hotel is not called "Under the Lion" and "Daniel". It was only after 1918 the hotel was renamed to "Under the Lion" due to the form of a lion placed in the lintel entrance. In the 20-ies breaking placed to the flight of an eagle - a symbol of nascent freedom.
Source: Gazeta Pomorska of 17 February 2001 article entitled "Podzwonne for Lewka"
Details

Written by

MB

Category: Uncategorised
Hits: 1746
Details

Written by

MB

Category: Uncategorised
Hits: 7202
LEW HOSTEL znajduje się w odnowionej XIX – wiecznej kamienicy, w której przed laty mieścił się słynny Hotel Pod Lwem.
Przed lata to miejsce tętniące życiem, z dobrą kuchnią i świetnym – choćby w okresie po II wojnie światowej – zespołem muzycznym. Urządzane w "lewku" bale karnawałowe, charytatywne tudzież zwykłe zabawy cieszyły się ogromnym powodzeniem.
Budynek powstał w 1906r. i od razu stał się on miejscem spotkań najzamożniejszych przedsta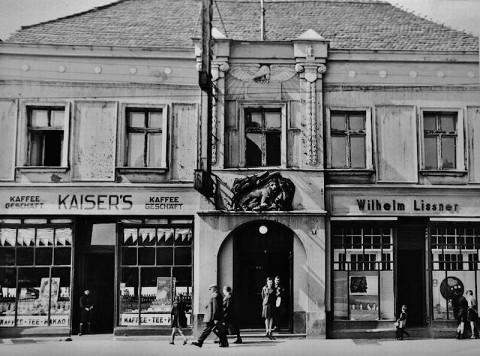 wicieli kujawskiej okolicy. W międzywojniu pod lokal podjeżdżały wolanty i kolaski z kujawską elitą, a u wejścia gości witały przepiękne oleandry.
Na niewielkiej scenie wystawiano wodewile i inne widowiska. W czasach PRL w restauracji odbywały się popularne dancingi, a w hotelu zatrzymywali się zamożni goście.
Ozdoby frontowej fasady pochodzą z końca XIX wieku, a podobne motywy można zauważyć na fasadach innych inowrocławskich domów. Te stiuki zrobiono w inowrocławskiej fabryce sztukaterii i były to gipsowe odlewy nakładane na podkładkę z tkaniny. Wyroby z tej fabryki były bardzo dobrej jakości.
Ongiś hotel nie nazywał się "Pod Lwem" a "Daniela". Dopiero po 1918 roku hotel przemianowano na "Pod Lwem" z uwagi na postać lwa umieszczoną w nadprożu wejścia. W latach 20 –tych umieszczono zrywającego się do lotu orła – symbol rodzącej się wolności.
Źródło:Gazeta Pomorska z dnia 17 lutego 2001 roku artykuł p.t. " Podzwonne dla Lewka"
Details

Written by

MB

Category: Uncategorised
Hits: 2418
Book by Phone
phone: (52) 353-16-37 , mob.: +48 603-077-881
Calendar