Inowrocław is considered the capital of Western Kujawy.
The city is located on the mighty rock salt deposits that are mined here since ancient times. In Inowrocławiu are brine graduation towers that give the city character Spa. The country town is considered one of the best resorts treatment of respiratory diseases. The biggest attraction is the spa park called Park Brine or "brines", extending the area of ​​approx. 85 hectares. The Brine Park are numerous health resorts, sanatoriums, graduation towers, band shell, recreational areas, ie .: tennis courts, a ropes course, a gym Field for adults, children's playground, mini-golf, tables for playing chess, horse riding, swimming pools. Solanki is famous for its magnificent floral carpets, rich natural landmarks, as well as the papal gardens, garden scents and colors that are a favorite place for walkers, and after a long journey, visitors can experience a break in the pump room of mineral waters and palm house. The city is surrounded by many bicycle paths.
In Inowrocławiu the main street of the city center is situated. Queen Jadwiga commonly called "Królówka" - at the intersection of the street and the market is Leo Hostel. Street has buildings from the late nineteenth century and early twentieth century. Queen Jadwiga street formerly was the main thoroughfare and commercial cities and so was today. "Królówka" is the center of social and commercial life Inowrocławia.
Surroundings Inowrocławia worth visiting:
• Kruszwica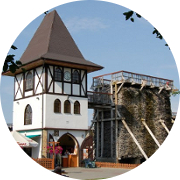 • Torun
• Bydgoszcz
• Gniezno
• Biskupin
• Dinosaur Park in Rogow